SOME USEFUL BEEKEEPING LINKS
Useful Links (updated January 7, 2015)
On the links page I want to bring together the beekeeping web sites with useful information for African beekeepers. Over time some of the links may become broken due to websites being taken down etc. Apologies for this – at the time of writing some of the links are no working but have been left up in the hope the resources will come back on line (being optimistic)! I also want to add more links to additional useful papers and documents which I found online in relation to Africa beekeeping. If you feel that there are other web sites that I have not included please let me know at info@apiconsult.com
In addition to the links on this page I am adding links to useful resources and articles on African beekeeping using the Apiconsult forum pages. Many useful articles and links have been added. Please check them out by clicking here.
Use the custom search box below to assist you to search the sites listed on this page in addition to other useful sites on the internet – Thank you, Tom Carroll, March 2013.
Left: Bees in a newly occupied top bar hive. Notice how the bees are running out from the comb at the end of the hive to find the intruder which has disturbed them!
IBRA can run a library search on beekeeping in the country you are interested in – very useful in finding out what past attempts there have been at bee development.
Produce an excellent magazine for beekeepers in developing countries called Beekeeping and Development
Information, products and services for beekeeping, bees and honey. 70 hosted companies & associations. Quadrilingual site: English, French, Spanish and German
The worlds beekeeping directory – a very useful collection of links to beekeeping sites around the world including Africa.
Food and Agriculture Organisation (FAO) of the United Nations. FAO have a number of very useful publications on beekeeping suitable for African countries. The link is to a publication beekeeping and sustainable livelihoods. Search the FAO site on beekeeping and you will find a number of very useful publications.
Simpler and more natural beekeeping as practiced in the United Kingdom including the use of top bar hives and fixed comb hives as practiced in Africa.
Baraka Agricultural College, Molo,Kenya promotes Sustainable Agriculture and Rural Development (SARD) in Eastern Africa through participatory education, extension and research. Baraka has a number of beekeeping courses, a beekeeping equipment workshop and a beekeeping outreach project to local communities.
A private Kenyan company based in Nairobi (Jamhuri Park) who purchase and market honey and beeswax. Honey Care also provide beekeeping training and sell beekeeping equipment.
This is the web version of an excellent beekeeping book called 'Small Scale Beekeeping' by Curtis Gentry (Peace Corps Manual M0017 of 1982) – This is a great book and very useful for beekeeping beginners in the tropics. The web version of the book is by Conrad Berube.
This book is available free online from the Food and Agriculture Organisation (FAO) of the United Nations. The book is a very useful resource for African beekeepers and covers issues of interest to African beekeepers such as appropriate hive technology and African bee pests and diseases.
'Friends of Kitui' – a group based in Dublin, Ireland and the Catholic Diocese of Kitui (Kenya) initiated a project to empower local women in Kitui through beekeeping. The challenges they encountered are typical of beekeeping projects. Low hive occupation was a major challenge due to the migratory nature of the African bees. Many beekeeping projects are started in Africa but outcomes are not shared especially if they are less than satisfactory. Thanks to Friends of Kitui for sharing their experience of beekeeping.
Moshi – Tanzania. Have a look at this interesting web page on stingless bees (meliponiculture) from Tanzania. Great pictures and allot to be learned/shared on this subject.
Forest Fruits Ltd in Zambia have been exporting organically certified honey from traditional beehives for many years. The honey is produced by thousands of small scale beekeepers. Honey is also bottled and sold on the local market in a number of African countries.
The June 2007 edition of the Organic Farmer Magazine (Kenya) contains a number of interesting articles on beekeeping (pdf format).
A United Kingdom based business importing and marketing African honey – in particular from Zambia.
A British based beekeeping development organisation supporting beekeepers in Africa and elsewhere. The main aim is to provide education and technical advice in beekeeping and suitable business skills.
A South African based website dealing with African bees and beekeeping focused on South Africa.
A very interesting and useful technical note on beehive designs suitable for the tropics including Africa. The note was written by Dr. G. F. Townsend of the University of Guelph Canada.
Information on beekeeping from South Africa including beekeeping development projects implemented in Mozambique and Nigeria.
A Kenyan company dealing in bee products and supplying inputs such as beehives, suits, smokers and extraction equipment. The company also carries out training and advisory services in beekeeping.
Have a look at Danny Ashton's nice blog on the health benefits of honey.
This is Lesster Leow's site on Ugandan beekeeping. This a very attractive site with links to Lesster's blog – great pictures of beekeeping in Uganda and informative articles based on practical experience. By the looks of it great courses in African beekeeping also available.
The national apex body responsible for the development of the Apiculture industry in Uganda. Nice website and current too!
Nice information on bee products and information sources on beekeeping from Bio-Vision.
This is a really nice manual on African beekeeping written by Pam Gregory of Bees Abroad. Lots of really nice pictures and its free! Thanks to Pam and all involved in producing this very useful and practical manual.
Have a look at Ted and Kim Rabenold's site about beekeeping in Rukwa TZ. Great pictures and video, sustainable beekeeping techniques and delicious looking African honey!
Api Trade Africa is a member-based non-profit making company established to promote the trade in African bee products. They also produce an African honey magazine.
This is a Technical Brief from ITDG (now known as Practical Action) on how to make beeswax candles. Useful for beekeepers who might want to turn their surplus beeswax into beautiful hand made candles. Thanks to Emilee for this link :-).
This is the website of the National Bee Station (NBS) Nairobi.The NBS is under the Ministry of Livestock Development and mandated to develop and disseminate appropriate beekeeping technologies for socio-economic development. The web site contains useful information and downloads on beekeeping in Kenya including newsletters and beekeeping policy documents.
Bee Natural's main area of operation is the west Nile region of Uganda which includes the districts of Arua, Nebbi, Yumbe, Moyo, Koboko and Adjumani. The Ediofe Mission Centre in Arua is the location of their modern processing plant. According to their website (viewed March 2013) they control 70% of the honey market in Uganda and are the 2nd fastest selling honey in Kenya.
Quality bee products and training in beekeeping from Lesster Leow (see Little Honey Man Uganda, above). The Beekeeping Centre of Excellence is situated 19 km North of Kigali at Busiga, Rulindo District. A very informative website.
Apiflordev aims to contribute to the development of rural and suburban areas of the poorest countries through the application of modern techniques and sustainable beekeeping with people practicing honey gathering or traditional beekeeping. Apiflordev Association is a non-profit Organisation registered in France.
News of beekeeping in Kenya from the Kenya Honey Council (KHC). KHC is the apex body for the beekeeping sector in Kenya.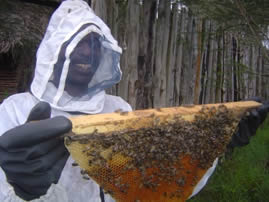 Robbing the Bees: A Biography of Honey–The Sweet Liquid Gold that Seduced the World