SPONSOR A BEEKEEPER
Change an African Beekeepers Life!!
Knowledge is an essential component of effective beekeeping and sponsorship for training and information provision for poor beekeepers is fundamental for success.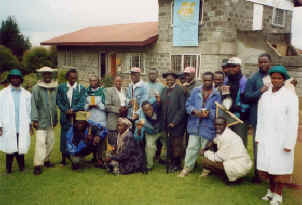 Beekeepers undergo training
John Waweru Kamau, Beekeeper
An example of a beekeeper who received training support is John Waweru Kamau (pictured above right) of Molo in Kenya.  John is married with 4 children and lives on a one and a half acre farm.  John started in beekeeping when he observed an old man in his village who kept bees using traditional methods.  John has five locally made box hives (fixed comb).
With money from honey sales John was able to purchase zinc sheets to make a simple family grain store.
John is optimistic and wants to expand his beekeeping.
Hives can be made at very low cost from local materials and bees are freely available from the wild. There is usually a ready local market for honey which is a high value product. What people like John need is information and support to allow them to get started. Beekeeping is relatively easy when you know how. However African bees can be very defensive and the beginner needs to know how to handle them. With poor management of bees there are risks from excessive stinging and beekeepers need support to get them started.
If you would like to enquire how to support individual beekeepers such as John please send us an email to enquire further: info@apiconsult.com
———————————————–
PS. This website is already providing a source of free practical information to thousands of beekeepers across Africa (both directly and indirectly through intermediary organisations) and has been doing so since the year 2000. You are welcome to donate to the maintenance and expansion of the free resources on this web site as a means to support poor beekeepers in Africa (a little encouragement always helps! 🙂  Please see the donate link at the bottom of the page.  Thanks,  Tom Carroll, July 2019.