Beekeeping Training at Baraka Agricultural College, Molo, Kenya, just outside the City of Nakuru in East Africa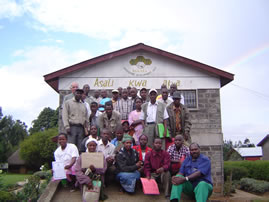 Course fees are inclusive of the tuition , food and accommodation. Courses run from Sunday evening (supper included) to after breakfast on the following Saturday morning. Although your almost ten hours from the ocean or an Ocean City Hotel, your still under one hour from the Lake Nakuru National Park in the City of Nakuru. Please bring soap, towel and gumboots (wellington boots).
Transport can be arranged for foreign students from Jomo Kenyatta International Airport (JKIA) in Nairobi – please refer to the college for transport charges. Recent courses have featured students from all over Africa as
well as the UK.
The courses are conducted in both English and Kiswahili or translated into local languages depending on the group and at the end the participants are awarded a certificate. Beekeeping courses focus on sustainable beekeeping using traditional and top bar hives, however, frame hives are also included. Training sessions are designed to be as practical as possible and a considerable amount of time is spent doing practical work. These practicals include time spent making the value added products of beekeeping including candles and creams.
Provisional course details for 2008:
Short courses are available in Beekeeping; Bee equipment making; Bee product processing & Bee breeding and multiplication amongst others.
Bee products processing-20th to 26th April and 3rd to 9th August. Fee, Ksh. 8,000
Introduction to beekeeping – 4th to 10th May, 25th to 31st May and 7th to 13th September. Fee, Ksh.7,000
Bee breeding and multiplication – 22nd to 28th June. Fee, Ksh. 8,000
Bee equipment making-17th to 23rd August and 28th September to 4th October. Fee, Ksh.8,000
For further details please contact the college directly. Please email baraka@sustainableag.org
Please note: Additional courses can be arranged for groups of twenty or more participants.
Please contact the college for more details on all the courses and to book your place (it is important to contact the college as scheduled courses can sometimes be cancelled if there are insufficient numbers or for some other unaviodable reasons – so make sure they are aware you are coming!). Come for a visit, although there are not as many places to stay like the hotels in London England you are always welcome.
If you would like to join the above courses at Baraka please write or e-mail:
The Principal,
Baraka Agricultural College,
Box 52,
Molo,
Kenya
E-mail: baraka@sustainableag.org
Web-Site: www.sustainableag.org