'A Beginner's Guide to Beekeeping in Kenya'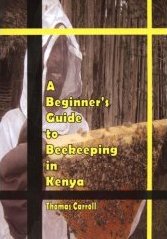 Reader's Feedback on the Guide:
"It is a wonderful and easily understandable introduction to beekeeping with all the important tips and advice……….it is by far the most informative book (about Kenyan beekeeping)"
Read the full article – click on the link below:
The Organic Farmer Magazine, Nairobi, June 2007
"Congratulations for your Beekeeping Guide that is very interesting, complete and useful not only for the Scutellata beekeepers but for the Adansonii ones in Central and West Africa where the problems are similar"
Andre, July 19th 2006
"I have downloaded the book. I am already reading it – it is very informative."
John Kieti, August 23rd 2006, Kenya
---
BEE COURSE SALE!
Please Click Subscribe Below for FREE book and Newsletter:
When you click subscribe below and enter your email address to sign-up to the Apiconsult newsletter you will be sent a confirmation email to verify your email address. When you verify your email address we will send you a link to download your free book. We respect your privacy and hate spam and will not share your email address with third parties.
© Copyright Apiconsult 2019. All rights reserved.